About FiberSpar LinePipe™
Advanced spoolable fiber-reinforced composite pipe
FiberSpar LinePipe™ has an exclusive and unique patented design that is perfect for multiple applications and environments.  Field results show FiberSpar LinePipe™ can save 20% or more over externally coated steel. There are endless features and advantages for companies wanting the most out of the investment of their equipment.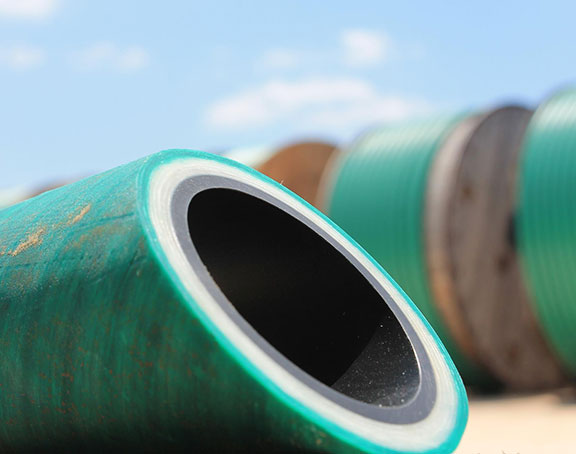 LinePipe is the ideal solution for infield flowlines.
LinePipe does not corrode, and has lower installed and operating costs compared to steel or stick fiberglass.
LinePipe is a widely accepted, field-proven solution.
More than 50 million feet in service in North America for more than 450 operators.
LinePipe has outstanding performance properties.
Extensive testing and years of field experience prove it.
LinePipe's patented connections are flexible, fast, and reliable.
Proven connectors install fast with simple tools; exceed pipe strength.
LinePipe installs in less than ½ the time, with much smaller crew sizes than steel or stick fiberglass.
Extensive case histories from operators demonstrating significant cost savings.
LinePipe will save your company maintenance costs.
Since LinePipe does not corrode, more money is saved over the life of the system by eliminating need for corrosion mitigation.
LinePipe can permanently remediate existing flowlines.
Field-proven as the most cost-effective permanent remediation method.
LinePipe comes with comprehensive installation, engineering and technical support services.
On site installation support from trained and certified FiberFlex associates to assist you every step of the way.
FiberFlex, part of J&L Industrial Group, is an authorized distributor of NOV Fiberglass Systems which manufactures the FiberSpar LinePipe™. Contact us to see the difference FiberSpar LinePipe™ can have on your operation.